16 DAY ADVENTURE IN ESWATINI & KRUGER
ESWATINI & KRUGER
Join us on an itinerary packed with adventures, activities and experiences out of the ordinary, as we explore all the highlights of the kingdom of Eswatini (formerly Swaziland) and take a walk on the wild side in South Africa's Kruger National Park.
This hiking based itinerary is focused on diversity – both in terms of experiences, landscape and people. Eswatini is characterized by a rich and vibrant culture, as well as incredible natural experiences and traditions rooted deep in history. As we journey through the kingdom we explore 7 very different nature reserves and discover why Eswatini is the next big hiking destination.
After exploring Eswatini we drive across the border to South Africa, where we take a walk on the wild side in the world-renowned Kruger National Park. Over 4 days we walk along rivers and deep into the bush.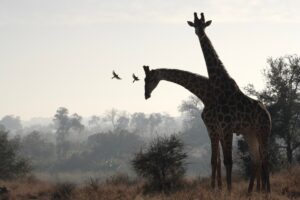 FROM $6,100 per person sharing
HIGHLIGHTS
DAY 1: Arrival in Eswatini
DAY 2: Phophonyane Nature Reserve
DAY 3: Malolotja Nature Reserve + Canopy Tour
DAY 4: Sibebe Rock
DAY 5-6: Mlilwane & Mantenga Cultural Experience
DAY 7: Hlane Royal National Park
DAY 8: Shewula Village
DAY 9: Mbuluzi Game Reserve
DAY 10: Kruger Game Drive
DAY 11-14: Wilderness Trail in Kruger
DAY 15: Blyde River Canyon
DAY 16: Departure
the best of eswatini & Kruger