10% off for bookings done before 1st February 2023
16 DAY ADVENTURE IN ESWATINI & KRUGER
ESWATINI & KRUGER
Join us on an adventure packed with activities and experiences you won't find anywhere else, as we explore all the wonderful highlights of the picturesque Kingdom of Eswatini (formerly Swaziland) and take a walk on the wild side in South Africa's Kruger National Park.
This hiking-based holiday is focused on diversity – in terms of experiences, landscape and people. Eswatini is characterised by a rich and vibrant culture, as well as incredible natural sights, sounds and traditions rooted deep in history. As we journey through the kingdom we explore seven very different nature reserves and discover why Eswatini is being hailed as the next big hiking destination.
After exploring Eswatini we'll drive across the border to South Africa, to take a walk on the wild side into the world-renowned Kruger National Park. Over four days we'll walk along rivers and deep into the bush.
Available Tour Dates 2023: 
Dates will be announced mid January – Stay tuned!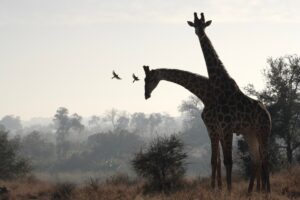 FROM $6,100 per person sharing
HIGHLIGHTS
DAY 1: Arrival in Eswatini
DAY 2: Phophonyane Nature Reserve
DAY 3: Malolotja Nature Reserve + Canopy Tour
DAY 4: Sibebe Rock
DAY 5-6: Mlilwane & Mantenga Cultural Experience
DAY 7: Hlane Royal National Park
DAY 8: Shewula Village
DAY 9: Mbuluzi Game Reserve
DAY 10: Kruger Game Drive
DAY 11-14: Wilderness Trail in Kruger
DAY 15: Blyde River Canyon
DAY 16: Departure
the best of eswatini & Kruger