LIFE IN THE DESERT
GREAT TSAU HILL
The Kalahari Desert's very name conjures up images of a unique, extraordinary environment: and rising suddenly out of its vast, flat, scrubby plains that stretch to the horizon in every direction is the majestic Great Tsau Hill. When the sunlight hits its sides it's easy to imagine that you are witnessing the very beginning of human civilisation; and this is truly one of the last places on earth you can walk where no other visitors have walked before you.
Great Tsau Hill is a magical place – 200 metres high and a kilometre across – where the vistas absorbed from every viewpoint will make your soul sing and where the air you'll breathe is the freshest you'll have enjoyed, untainted by any element of the modern world. And because Roots & Journeys has exclusive access to this area of 400 square kilometres, you'll encounter no other people or vehicles during your stay with us: your opportunity to be at one with this unique environment will be uninterrupted.
Sunrise and sunset are always extraordinary times of the day in Africa and at our Great Tsau Hill camp, you'll see colours – popping and merging as you watch the sky change – that are indescribably beautiful. As you enjoy a sundowner amongst the rocks, you'll notice that with the nearest town more than 150km away, there is zero light pollution: when the sun goes down and you look up to the stars, the night sky will offer a completely new and stunning visual experience. Sleeping out under the stars in such an unspoiled and remote location creates a sense of wonder that will stay with you for a lifetime; there is nowhere else like this in the world.
Great Tsau Hill is a haven of tranquillity, but it is also teeming with life. Many of the animals on the savanna are active when the sun disappears and with  the expert guidance of our Nature Hosts, it's exciting to embark on a night drive looking for giraffe, brown hyenas, bat-eared foxes, and if your lucky, even the famed Kalahari black mane lions. By day, you can enjoy game drives in a vehicle with a driver or choose to try an e-bike safari: the ideal whisper-quiet transport to take you safely right up to the animals that roam the vast open plains including herds of oryx, hartebeest, wildebeest and ostrich.
This area is home to one of the planet's oldest societies: the San Bushmen. They have been living at one with this environment since long before the ancient Greek, Roman and Egyptian civilisations existed and continued long after; to learn from them is a privilege very few people get to experience. You'll have the opportunity to go foraging with the San Bushman: to find delicious food and water where none appears to exist. To create weapons for hunting, or fire, from what you find around you. To see them tell stories and perform dances that have been handed down through generations, over tens of thousands of years. It's a wonderful and humbling experience to live as they do – however briefly – and to understand what it means to frown upon possessions and concentrate only on conserving the environment you know, which in return gives you life.
Staying at Great Tsau Hill as our guest means getting as close to nature as it's possible to do without sacrificing comfort; your tent will be large enough and well-appointed – comfortable bed, nightstand, vanity – but rustic. Portable toilets, bucket showers – your amenities will be basic, but in keeping with the utterly unspoiled nature of your surroundings. Meals will be rustic and served around the campfire.
There are plenty of unique and wonderful experiences on offer at Great Tsau Hill to fill your days, but the pace is relaxed and there is no fixed itinerary. If you spot some rarely-seen game you want to spend the afternoon tracking or wish to spend longer cooling off in the natural pool that's nestled into the rock formations of Great Tsau Hill, you can. Your time is your own and we are there to help you make the most of what will be the trip of a lifetime to a location you'll never forget.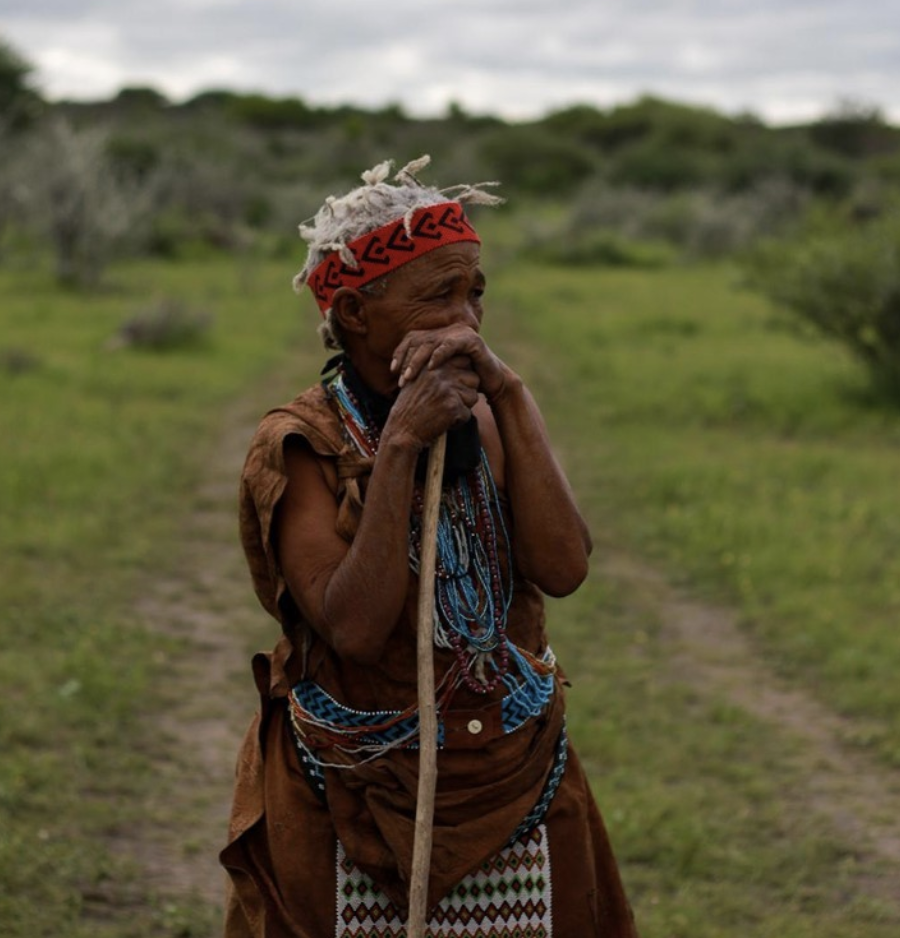 In the heart of the Kalahari
Location exclusive to Roots & Journeys
Camp under the stars
Walking, hiking, stargazing
Game drives by day and night
E-bike safaris
Meet the San Bushmen – Learn about foraging, wilderness survival, arts & crafts
Pool with a view
Per Person Per Night (Sharing)
1 game drive and 1 bush walk per day

Select drinks (Excl premium brand drinks)

Optional experiences: Meet a San Family, eBike Safari